Supporting New Friendships – The Kirklees Befriending Service
Making New Friends
The Kirklees Befriending Service supports clients with mild to moderate mental health issues and/ or those who may be socially isolated.
As part of our service, clients are matched with a volunteer befriender who will support them in working towards personal goals to improve their health and wellbeing. While clients are waiting to matched to a befriender, the service offers group sessions including the coffee drop-ins; these sessions enable clients to gain social support through a group in the community/ public space.
Many of our clients who attend the coffee drop-ins do not have many people around them and can, at times, feel very lonely. Coffee drop-in allows them to meet new people, talk about their mental health in a non-judgemental group where they can relate to each other, build confidence and take steps towards accessing other groups and activities in the community to improve their wellbeing.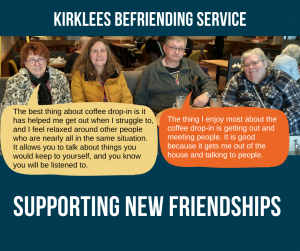 Currently, we have a coffee drop-in session in North Kirklees (Dewsbury town centre) and South Kirklees (Huddersfield town centre) which take place every fortnight
If you would like to know more about the service, please email:KBS@st-annes.org.uk.  or call 07973 330424 / 01924 468344