Make a donation
Although most of our services are funded by grants and benefits payments from statutory authorities, we still need your help to fund initiatives that support people with a range of needs.
For example, your donation could help to:
Provide special equipment for someone we support
Pay for advocacy services for people with disabilities
Provide training for the people we support so they can be more involved in recruiting the staff that work with them
Fund social events for clients
You can help us in a variety of ways: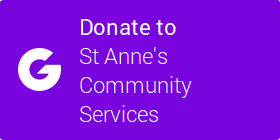 Or
If you would like to make a donation, please print out and fill in our Donation Form and send it with a cheque made payable to 'St. Anne's Community Services' to: Finance Dept, St Anne's Community Services, 6 St Mark's Avenue, Leeds, LS2 9BN. You can also request a form by contacting us on 0113 281 6923.
If you are a UK taxpayer, you can increase the value of your donation without it costing you a penny more! Simply sign the Gift Aid section of our donation form – this allows us to reclaim tax from the Inland Revenue and so get even more funds for our vital projects. More information about how Gift Aid works is available on the Inland Revenue web site.
Give regularly by setting up a standing order
Regular donations help us to plan how to make best use of your contributions.
If you would like to set up a standing order, please fill in our Donation Form and send it to the address above.
Make regular donations from your salary
You can make regular donations directly from your salary if your employer runs a payroll giving scheme – and you only have to fill in a form once! The advantage of payroll giving is that we can reclaim the tax from the Inland Revenue at no cost to you. This extra money will help us fund even more vital projects.
Leave a legacy
By remembering St. Anne's in your Will, you will have a positive impact on the lives of future generations of people who need care and support. Legacies help us to fund projects that really make a difference to the lives of people we support.
For more information on how to leave a gift to St Anne's in your Will, please contact your solicitor for advice.