Enabling people to lead independent and fulfilled lives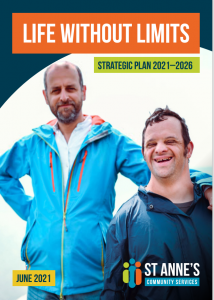 Our Strategic Plan outlines three 'Strategic Commitments' which support our vision and purpose, they are upheld by eight 'Pillars of Excellence' which outline our long term focus. Behind each 'Pillar' is a detailed strategy and plan and when combined, they create a powerful, interdependent, and mutually reinforcing strategy that will drive our people focused vision.
Our three 'Strategic Commitments' are detailed below, with each of our eight 'Pillars of Excellence', these elements come together in aligning our motivations and everything we do to achieve our vision of a "Life without limits for the people we support"
To our CLIENTS, our STAFF AND our COMMUNITIES
To Excellence and Innovation in Service Delivery
To business sustainability, value for money and digital transformation
Commitment 1:

Pillar 1:

Enabling our Clients – To ensure that the people we support are at the centre of everything we do, creating strong, individual pathways for people to live their best life.

Pillar 2:

Empowering our People – We are a people organisation – people supporting people – and we want to be recognised as a great place to work, an 'employer of choice' to our employees and to people outside of our organisation.

Pillar 3:

Delivering Social Value to our Communities – To increase, measure and evidence our social impact for people, local communities, and the environment.

Commitment 2:

Pillar 4:

'Good to Great' Quality and Continuous Improvement – To be an exemplar of high-quality and best practice within the social care sector – from 'good to great' – delivering great services and achieving great outcomes.

Pillar 5:

Consolidation, Innovation and Expansion – To consolidate our existing range of services, develop innovative and creative services that support pathways for people
and expand our offer to new localities.

Pillar 6:

An Integrated Housing Solution – To develop and invest in our housing and assistive technology, offering a truly integrated approach that will enable greater access to high quality, affordable homes that meet evolving individual needs

Commitment 3

Pillar 7:

Digital Transformation – To make systems and processes more efficient and to use technology to build greater connectivity, quality and capacity within the organisation.

Pillar 8:

Organisational Resources and Sustainability – To ensure that everything we do considers and represents value for money, and we operate in a way which is financially
sustainable in both the short and long term.