Case Study: From Care to Delivering Care
Rachel's Story
Many of our Support Workers come from different backgrounds, each providing them with experience or skills which help them become superb support for our clients. Rachel, part of our team in Hull has shared her very personal journey and thoughts as to why St Anne's was right for her.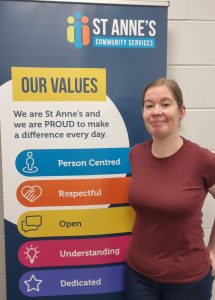 "I left home when I was 17, unfortunately my mum had mental health issues and we, at the time, did not get on. So, at 17 I was going into hostel accommodation. During my first weeks in accommodation a Support Worker asked me what job did I wish to do, I said something like theirs as I had a passion for trying to help people. At the time I had just started college doing a course in health and social care. Sadly, the feedback was 'You will not be able to do that, you will need a degree', whilst it upset me, it was also my biggest motivation. 
"I was in supported accommodation until I was 20/21, thankfully supported by a more encouraging Support Worker, following this I moved into a flat with a house mate.  
"After completing college, I applied to be an Apprentice in a primary school to get some work experience, then I progressed on to becoming a Trainee Project Assistant at a local hostel. This role gave me first-hand experience, on top of my own hostel experience, of supporting people suffering substance addiction, mental health issues, learning disabilities and even senior citizens who were struggling to live alone – it reinforced my wish to help people even more.  
"For a while I switched my role to nights, so I could support my terminally ill mum, again an experience of care that made a huge impact on me. Following this period, I progressed to becoming a Support Worker, a role I had for six years, finally achieving my goal, and proving my former Support Worker wrong. 
"Over the last few years my life has changed so much I have the role I want, and I am studying for my English Degree. My journey in some way is a result of life experience, and the determination that no-one was going to stop my dream of making my life. I have shell shocked people because I am determined to support others and open the door of opportunity to them, this is why I joined St Anne's. 
"Changing people's lives or helping them have a life without limits is all about perspective and goals. I love to help people with learning disabilities, enabling them with quality time. The simplest things can be such achievements, like making a pasta bake from scratch, supporting them to attend appointments  or access their local communities – small joys that can make life that bit better – because as I have learnt the small things are actually massive. 
"St Anne's mirrors my ethos to help and support people, I am so proud to be part of a new team, making a huge difference to people's lives in Hull."