Case Study: Social Care…via decorating!
Social Care…via decorating!
Hi I am Daniel Pickering (24)
"I was not much of a student at school, it didn't really give me any idea of what I wanted to do in life. After school I went straight to college, I did a few different courses just because I felt I had to, I did not really have any preferences or idea of what to do, but I wanted to find what I liked.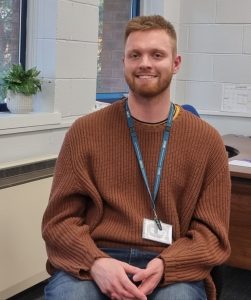 "First, I tried a painting and decorating apprenticeship, but that really wasn't for me. Then I tried a building site…that was not suited to me, then I tried media which I enjoyed but it was not what I wanted to do. So, I went outside working, I got jobs in bars and restaurants which was fun, as I got to meet people and it was the people side of it that I really enjoyed. My girlfriend at the time worked in a pub, and the landlady was a social worker and suggested that might be a good way to go down, but as I was not very good at school, I did not have any qualifications, so I went back to college to do an Access Course in Psychology and Criminology, and that was like two A Levels and gave me enough to go to university.
"I did a Social Work course at Hull University, which I loved. I never thought I would enjoy doing something educational, but it was there I found my love of social care.  We did some work placements whilst I was at university, my first one was with unpaid carers which again is not something I ever thought I would do but again I really liked the people side of it just getting to sit and talk to people and try and help them.
"My second work placement was an eye-opener because I worked for a housing provider supporting people off the streets, and people from out of prison. After university I stayed on with them, this was just when Covid was starting, it worked out well for me as I now had a job, and I could stay in Hull.
"The role allowed me to work with probation clients, coming straight out of prison. We would support and assess them for housing and then support them into that house for example paying bills, keeping the house clean, budgeting, and shopping. It was interesting to be working alongside the Probation Service, as I could see how organised crime worked, I sadly got to see clients getting cuckooed a lot (when the drugs gangs come in and take over their homes). Sadly, it was not the best company to work for, and to be honest it sometimes felt you were setting people up to fail which is a problem for social housing it's not the best quality always.
"Following this, I got a job in a homeless hostel, which I loved. This was the client group I enjoyed. Obviously, that's like a step back on the ladder because you usually go from hostel to housing, so for me, it was in reverse. But I found the time with these clients more rewarding, most of them had hard backstories, but getting to know them was always worthwhile.
"After this, I heard St Anne's had come to Hull, so I researched them online and applied for one of their roles and that is how I have ended up here. From working in hostels, drug use crime, and those with mental health, I felt I had good experience to offer St Anne's.
"So, why St Anne's?
"In homelessness support you realise that the difference you can make is small, a lot of people are not ready to change. With St Anne's I felt I could offer something more long-term, in which I could see the difference I am making to someone's life every day. For example, today we have been swimming and been out for lunch, new experiences for this client, and that is so rewarding. This is a chance to make a proper difference with people, and I love it".