Community Orchard Planting – Celebrating our 50th Year
Celebrating and commemorating our 50th Anniversary in 2021-22, our teams from Gateshead and Dewsbury have planted 30 fruit trees as a lasting legacy of our golden anniversary during spring 2022.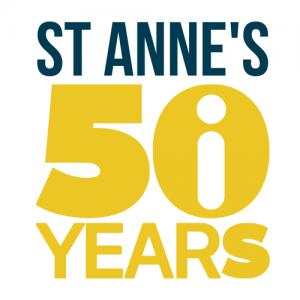 In Gateshead our team planted 25 fruit trees in Dunston Park, undertaken in partnership with Gateshead Council. Whilst in Dewsbury (West Yokshire), a grove of five fruit trees was planted in Crowsnest Park, in conjunction with The Friends of Crowsnest Park Community Group .
Azra Kirkby, Chief Executive of St Anne's, who unveiled the orchard in Dunston Park, Gateshead said;
"We wanted to create a living legacy for our 50th Anniversary which our clients can come and enjoy. The planting is a great opportunity for our clients, staff, commissioners, and the community to come together to support one another in planting these trees.
"These past two years have taught us all how much we need one another, and we are so delighted to be celebrating our 50 years with a lasting reminder of that."
Dot Burnett, Lord Mayor of Gateshead, who attended the event with local ward councillors said: 
"I am very happy to help plant the orchard. I'd like to thank you St Anne's very much for the contribution that you are making to the Dunston Teams Ward, it's absolutely fabulous".
Attending the planting and unveiling of the grove in Dewbury, Shona Beaton, Deputy Chief Executive of St Anne's said: 
"Outdoor spaces have proven so important to all of use in the last two years and we are so pleased to be adding to this beautiful park and to be giving back to the community"
To see more about both events,  please see the videos below:
Dunston Park – Gatehead
Crowsnest Park – Dewsbury